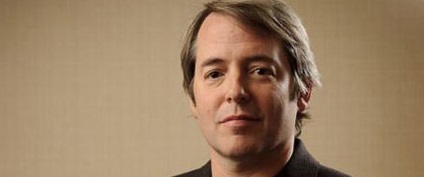 A few nights ago I dreamt about Matthew Broderick. There we were, in a cosy front room, fire burning in the grate, passing the time of day, chit-chatting. He looked different from how I remembered him; a bit worst-for-wear, slightly overweight, unshaven.
"Are you sure it wasn't a mirror, Flicko?" Indeed, very amusing.
By the way, please note: I'm not a big Broderick aficionado, so don't expect any insight here or clever references – I appreciate that is what you've come to expect in my regular blog posts (written with a totally straight face).
Obviously I didn't really know what to say, I was as awe struck as one can be, knowing they're dreaming about a real life film star in a not-real life situation. I must admit though, even his imagined self carried a certain presence.
For some inane reason, grasping for the appearance of nonchalance, I asked him how his marriage was going with Sarah Jessica Parker. It's amazing the influence magazines like Hello, OK and Alright (is that one?) have, that I made the assumption this was a valid conversational avenue to pursue, based on having once read – sorry, I mean – looked at a photo of them together in one of these quality publications.
Even the tacit suggestion that his marriage may not have been going well… scrub that, I think I actually said, 'Are you still together?' Again, the accepted presumption that show biz marriages are transitory and meaningless arrangements. I'm surprised he didn't slap me there and then. Maybe it WAS a mirror.
As I was waking from slumber, the comfy lounge slowly dissipating before my closed eyes, I initiated a conversation about Ferris Bueller's Day Off, observing that Ferris was representative of a normal school kid, and this wasn't something you saw much of in movies. As in, generally US students in film seem to be a jock or geek or any of those other handy categories used to limit a teenager's social development. Or is this societal shorthand only found on celluloid? (And I said you weren't going to get any insight! "You were right." Okay.)
I also wanted to talk about Election, one of my favourite films OF ALL TIME.
But even more crucially I forgot to mention my comic, whilst unashamedly raising the topic of potential big screen adaptation opportunities! Obviously I'd let him play the role of Rossi, if he wanted it. Assuming Bruce wasn't available (Willis not Forsyth).
I woke up at this point. To be honest, looking back the thing that annoyed me more than those fumbled chances of furthering my own career is that Matthew didn't even ask me, 'So how are you?' Typical celebrity.
Where's that number for Hello? I reckon I could make some money out of this.
"If you hadn't dreamt it all, mate." Fair point.