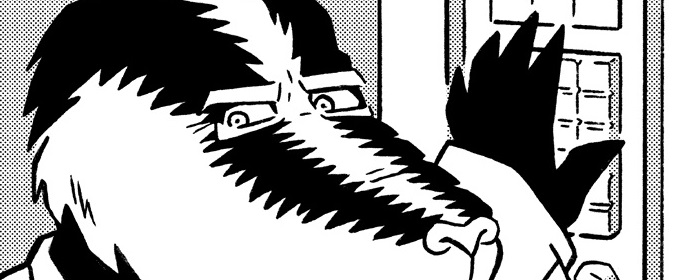 "Why on earth has that character got the head of a badger?!" That is a question I've heard many many times (twice). And I'm expecting to hear it even more once this crazy graphic novel is released and rockets up The Times bestseller list! (That. Is. Not. A. Joke.)
"Stop avoiding the question, Flicko!" Okay. We're talking about anthropomorphism, as in, applying human forms or attributes to something which isn't human. Of course, we all know this has been going on for years!
The ancient Egyptians had their share of animal-headed deities (e.g. jackal, falcon and crocodile), the Hindu pantheon as well (e.g. elephant and monkey) and in centuries past European explorers would often return home with tales of distant lands populated by men with the heads of dogs, even up to the medieval period.
But really it's from literature and other media that I've taken my influence. Whether it's The Island of Doctor Moreau, Alice in Wonderland, Une Semaine De Bonte, The Magic Finger, Jungle Book (which I hear has been made into an excellent book-of-the-film), Snoopy and any number of animated 'funny animals'.
But in the early Rupert Bear stories, that's where I particularly found talking animals to be pretty creepy and disconcerting, yet fascinating, especially as they lived alongside their human counterparts without anyone necessarily commenting, "Er, excuse me, but do you know you have the head of a hamster?"
So that's my justification, y'honour, for including an evil mad scientist with the head of a badger in my comic! It's grounded in an established history of literary anthropomorphic acceptance.
It's handy as well, as it communicates – without words – this is not a normal situation; this is a fantastical world you are entering. I like to think it stimulates curiosity.
And if you're drawing a black and white comic, a badger is ideal! I know, based on that, he could have been any monochromatic animal. But to be honest, there's a certain simmering malevolence I was going for that I don't think a Friesian cow could exactly pull off. Let alone squeeze those udders into a lab coat! I rest my case.