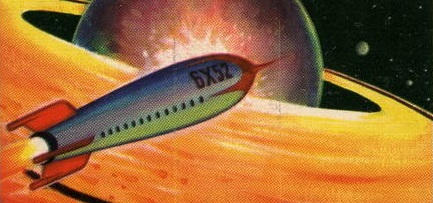 There was once a street urchin. Every night he looked up from the gutter to the sparkling sky, dreaming of a life covered in stardust than actual dust. But he wasn't an astronaut or cosmonaut, invariably he had naught. How would he achieve this wish of tissue-like vulnerability?
He chose the unexpected route; he gathered bottle tops and empty milk cartons. From these he built the most remarkable inventions and artful objects that sent the buying public rushing to drag their bank managers out of their beds to empty the vaults and shower the street urchin in mint.
Deals were struck, contracts signed and handshakes shaken. The civilised world fawned over him and his bottle top masterpieces, the uncivilised world toasted his health as 'one of their own' made good. The street urchin was a footstep nearer his goal.
Amongst the plethora of celebrities and influential faces that sought to sun in his growing radiance as the World's Greatest Artist, he inevitably found himself in conversation with the World's Richest Man; a shadowy character who stood in no one's shadow, who left no stone or leaf unturned; the inviting stench of wealth followed him like a wet papery smell, and his hands felt like the hands of a man who has been counting old coppers and coins whilst inexplicably failing to wash them. They got on like a house with a fire; warm and cosy.
The World's Richest Man introduced him to sailors, gymnasts, lion tamers, call centre workers, popular singers, air stewardesses, au pairs, oil tycoons, diplomats, ambassadors, TV quiz show hosts, racing drivers, baseball players, women footballers, chocolatiers, biologists, optometrists, out-of-work actors, generals and of course, spacemen.
Conversations always turned to space and travel, but it was the last of these people groups that gave the least quizzical looks.
The spacemen admired the street urchin and his roughshod journey from the gutter to the front page of the weekend supplements; riding the back of his bottle top and milk carton creations. They felt an unexpected affinity with him as rockets can look a bit like bottles and are the same colour as milk.
Strings were pulled as backs were scratched, so the time finally came when our street urchin found himself stood on a set of steel steps in the Florida breeze, his tiny tired fingers resting on the cold metal handrail, looking up at his giant cylindrical dream. But as he placed that first tentative step towards the small open door above, that beckoned him to his destiny…
I guess what I'm trying to say is, I've recently negotiated the end of my contract with my old publisher, so I'm looking at self-publishing the graphic novel as an eBook now. I'll keep you updated. Sorry, I could have said that at the beginning.