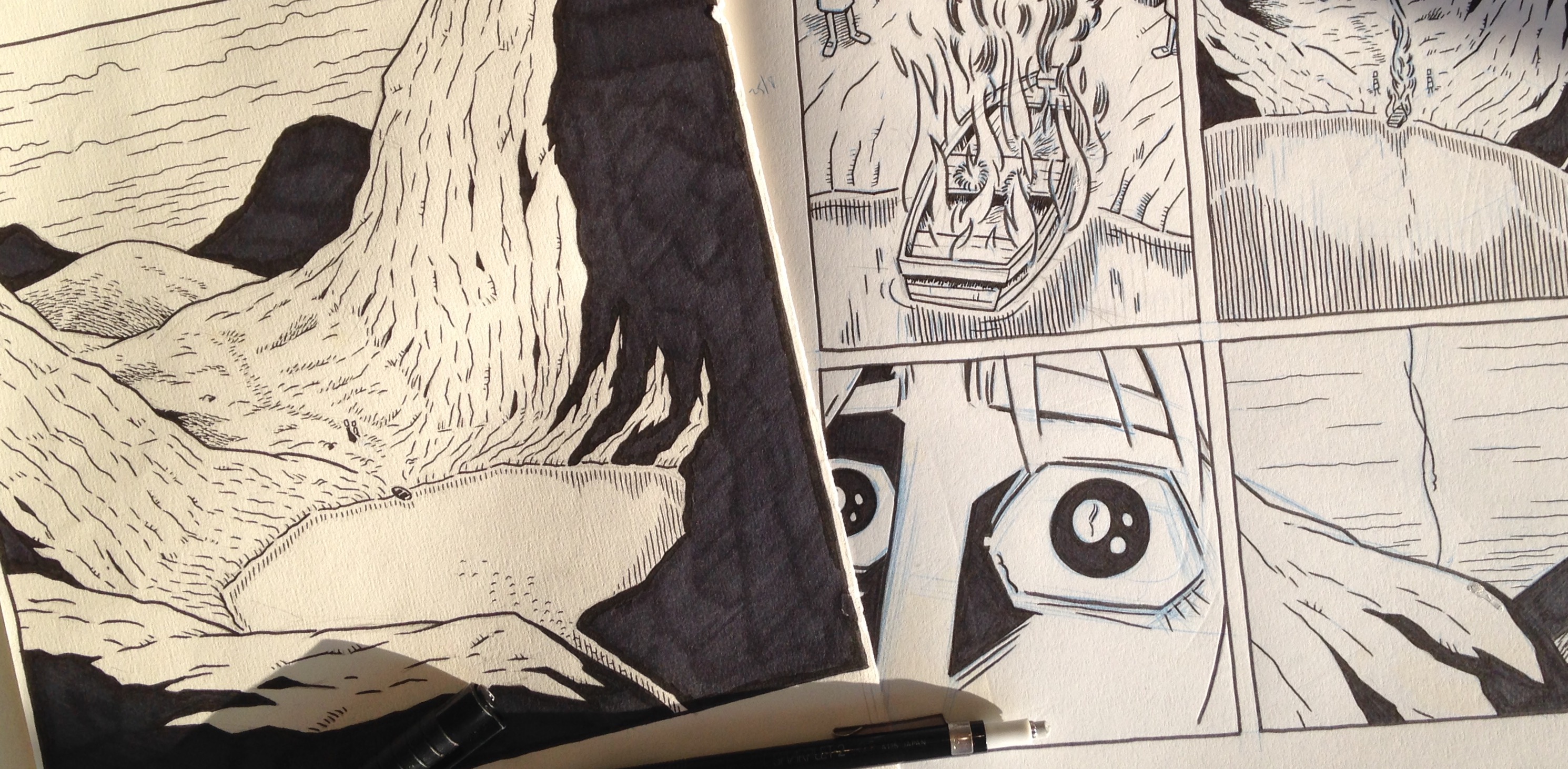 Slightly more than half a marathon, more like three fifths of a marathon! But come on, where's the excitement in setting yourself a challenge if there isn't the real possibility that you might not make it? Which, I hold my hands up, is what happened here. My quivering sweaty body lying in the road as tears and embarrassment stain my hopes of achieving that shiny medal of success (metaphorically speaking). Okay, maybe it's not that bad.
The Comic 365 Challenge was/is a self-imposed project to create a comic strip, one panel a day, over the course of a year. Click that button here for more (but not much more) explanation.
It started well and continued fairly steadily through the first few months, but it did quickly became apparent this was going to take longer than a year! After all, the storyline wasn't meticously planned out in advance, other than in the vaguest way in my head, with certain images and plot points I knew would happen, then basically stringing individual panels between these narrative buoys. (That's story writing, kids!)
I also set myself the additional challenge of using blue pencil and art pens (whereas normally I would be found sporting a regular grey-type pencil, brush and ink). But the discovery that blue leads in a retractable pencil are frustratingly fragile, liable to collapse at the merest suggestion of pressure, soon sent me back to the trusty HB. I did stick with the art pen, even though the line became noticeably thicker as the pen got older and I unconsciously veered back towards a variation of line with which I'm familiar (like a brush, y'see). You can see this if you compare some of the early panels with the later ones.
But unexpectedly there was a wonderful delight in using Instagram as a window to the world, primarily from the immediate response and interaction with those viewing my fresh sequential produce.
My illustrating experience is one of spending time crafting and sculpting a tale or doodle, with no audience participation whatsoever, even when it's gone to print let along during the process itself! I know this can be good and bad, but in regards to this challenge the engagement was an essential flavour of the scheme. Every 'like' or 'comment' added a joyful skip in my pen work, though there is of course an addictive quality which only becomes apparent when you've proudly posted up the Mona Lisa and received a disappointedly muted response. My desperation for the affirmation of strangers reflected back at me by a blank comments box. Sad face.
This is when you remind yourself that actually the 'normal way' of drawing is to receive a 'muted response' EVERY TIME you've completed a panel because… you're working on your own! Stop being so cloying!
Where were we? Yes, August is when things started to slip, and the odd missed panel slowly started to grow into a whole stack of missed panels. Like Billy Liar stuffing the undelivered calendars back into his wardrobe, it comes to a point (in October) when you need to admit you're not going to catch up. The priorities of life outside of social networking (is there such a thing?) take precedence over the virtual. The unseen referee holds up my hand to watch it limply splat to the canvas, announcing the match is over, and the winner is not me. 235 days complete, 130 remain.
But let us not be downbeat, fellow travellers! Though the tale is still not told at least we are now released from the shackles of weighty expectation and rattling on the bars of unrelenting deadlines. Now I can continue the story without the constraints. "Maybe you needed the constraints to actually motivate you, Flix!" Hmm, you might have a point. "Thanks." You're welcome.
Let's see what happens next. But I'll be honest, this isn't my priority. I am keen to at least scan and present the current panels, and finish off the 'final' 130 images. I say 'final' because I already know the first 365 drawings would only be Chapter One! This is going to take ages. "Especially if you're not drawing it anymore!"
In the meantime, you can view the panels on Instagram, you don't even need to have an account. Of course, feel free to 'like' or add an effusive comment. "Stop being so cloying!" Soz.
P.S. If you were looking for an explanation of WHAT ON EARTH the C365 story is about, I'm afraid this isn't the blog for that. Another time, kindly reader!