Archives For Drawing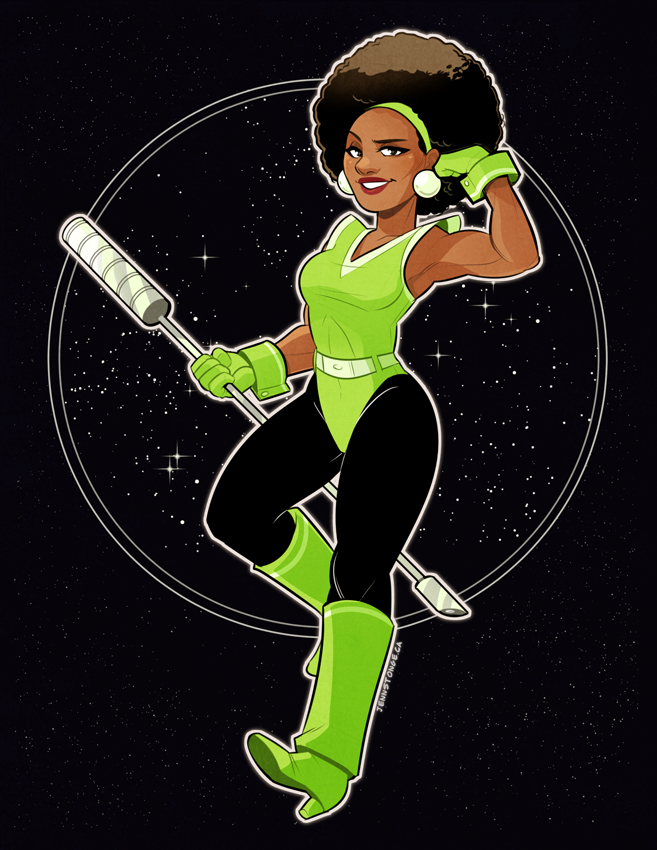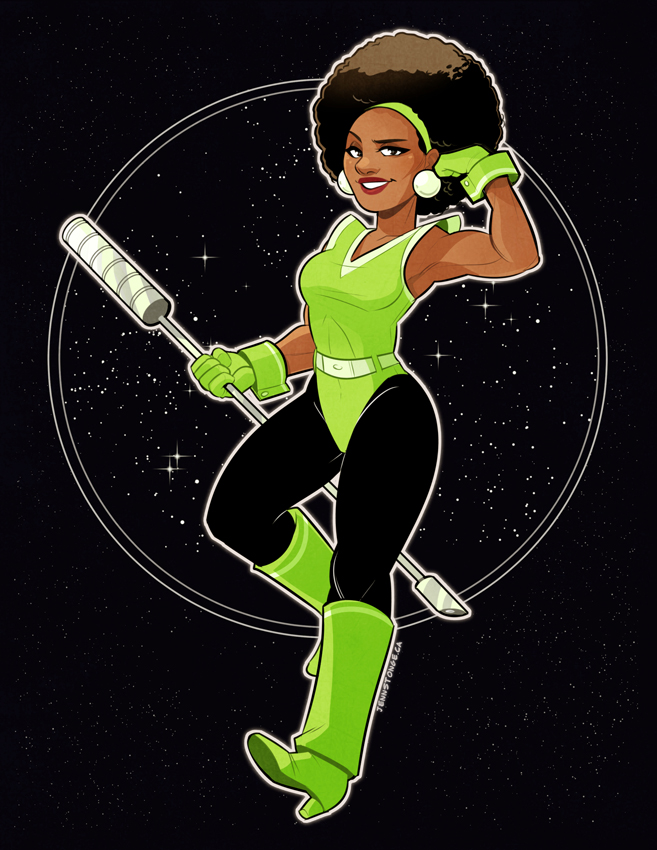 …and here is a wonderful take on Diana (from the Mockingbird comic, of course) by the ridiculously talented Jenn St Onge.
I'll be honest with you, I'm not a big fan of Marvel's Inhumans.
I recall the Fantastic Four had a fair few encounters with them, and I remember really enjoying that excellent story when Triton popped into the Negative Zone to rescue Mr Fantastic ("Not so fantastic now, eh?" I think he uttered).
I also liked the idea of Crystal as Johnny Storm's girlfriend. But then I'm always a fan of temporary team changes (especially when they aren't simply about increasing sales.)
And Black Bolt's power of talking loudly is kinda' fun, in that he can't even mutter under his breath without knocking out someone's eardrums or causing a child's Lego tower to crumble ("Now THAT was a waste of a Saturday afternoon!"). I'm sure it's a bit of a pain for him too. I hear he likes Lego.
The fact that Maximus relies on his intellect and influence without particularly showy super powers, yet seems to be their main adversary is also intriguing.
Yeah, so like I said, I'm not a big fan.
But now there's a telly show all about them, so I thought I'd show you some of my Inhuman doodles. And by 'inhuman' I don't mean my drawing style, I mean…. oh, you know what I mean.
(For the unfamiliar this is Crystal, Maximus, Black Bolt and Medusa.)
If you'd like to see more drawings feel free to do the click thing here or here. No presh.
Here are some sketches you may find interesting (no pressure). These are the rough thumbnails I drew a few years ago for the publisher I was with at the time, when presenting my cover ideas for Mockingbird: Nightmare on Another Planet.
Here's fun – why don't you try to find the cover I ended up using? A firm handshake and solid thumbs up for the winner!
Postscript: Feel free to tell me if you think I should've used one of the other options, I won't be offended. Hey, it might even start a fascinating discussion thread (I've seen these on other blogs!).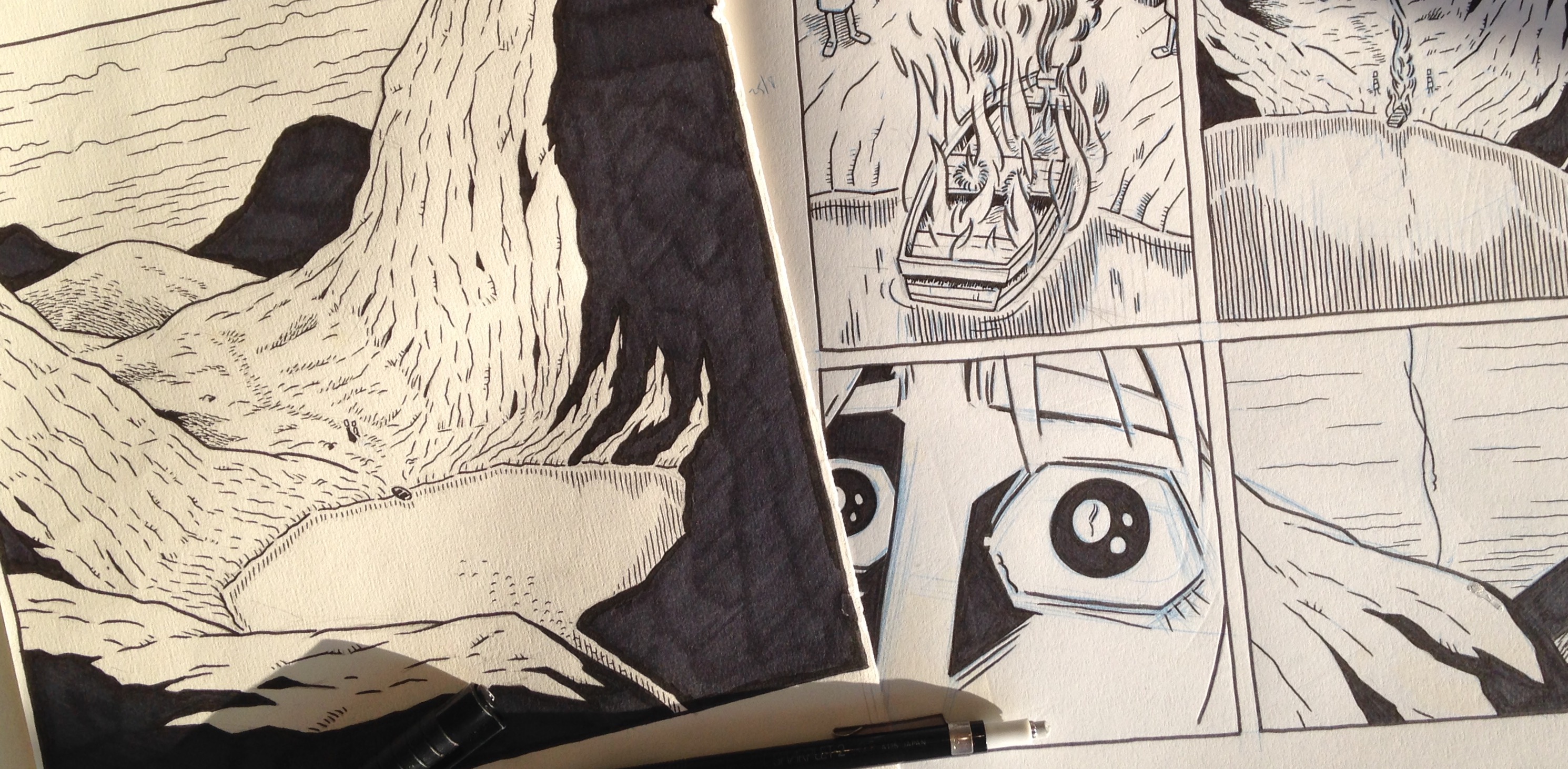 Slightly more than half a marathon, more like three fifths of a marathon! But come on, where's the excitement in setting yourself a challenge if there isn't the real possibility that you might not make it? Which, I hold my hands up, is what happened here. My quivering sweaty body lying in the road as tears and embarrassment stain my hopes of achieving that shiny medal of success (metaphorically speaking). Okay, maybe it's not that bad.
The Comic 365 Challenge was/is a self-imposed project to create a comic strip, one panel a day, over the course of a year. Click that button here for more (but not much more) explanation.
It started well and continued fairly steadily through the first few months, but it did quickly became apparent this was going to take longer than a year! After all, the storyline wasn't meticously planned out in advance, other than in the vaguest way in my head, with certain images and plot points I knew would happen, then basically stringing individual panels between these narrative buoys. (That's story writing, kids!)
I also set myself the additional challenge of using blue pencil and art pens (whereas normally I would be found sporting a regular grey-type pencil, brush and ink). But the discovery that blue leads in a retractable pencil are frustratingly fragile, liable to collapse at the merest suggestion of pressure, soon sent me back to the trusty HB. I did stick with the art pen, even though the line became noticeably thicker as the pen got older and I unconsciously veered back towards a variation of line with which I'm familiar (like a brush, y'see). You can see this if you compare some of the early panels with the later ones.
But unexpectedly there was a wonderful delight in using Instagram as a window to the world, primarily from the immediate response and interaction with those viewing my fresh sequential produce.
My illustrating experience is one of spending time crafting and sculpting a tale or doodle, with no audience participation whatsoever, even when it's gone to print let along during the process itself! I know this can be good and bad, but in regards to this challenge the engagement was an essential flavour of the scheme. Every 'like' or 'comment' added a joyful skip in my pen work, though there is of course an addictive quality which only becomes apparent when you've proudly posted up the Mona Lisa and received a disappointedly muted response. My desperation for the affirmation of strangers reflected back at me by a blank comments box. Sad face.
This is when you remind yourself that actually the 'normal way' of drawing is to receive a 'muted response' EVERY TIME you've completed a panel because… you're working on your own! Stop being so cloying!
Where were we? Yes, August is when things started to slip, and the odd missed panel slowly started to grow into a whole stack of missed panels. Like Billy Liar stuffing the undelivered calendars back into his wardrobe, it comes to a point (in October) when you need to admit you're not going to catch up. The priorities of life outside of social networking (is there such a thing?) take precedence over the virtual. The unseen referee holds up my hand to watch it limply splat to the canvas, announcing the match is over, and the winner is not me. 235 days complete, 130 remain.
But let us not be downbeat, fellow travellers! Though the tale is still not told at least we are now released from the shackles of weighty expectation and rattling on the bars of unrelenting deadlines. Now I can continue the story without the constraints. "Maybe you needed the constraints to actually motivate you, Flix!" Hmm, you might have a point. "Thanks." You're welcome.
Let's see what happens next. But I'll be honest, this isn't my priority. I am keen to at least scan and present the current panels, and finish off the 'final' 130 images. I say 'final' because I already know the first 365 drawings would only be Chapter One! This is going to take ages. "Especially if you're not drawing it anymore!"
In the meantime, you can view the panels on Instagram, you don't even need to have an account. Of course, feel free to 'like' or add an effusive comment. "Stop being so cloying!" Soz.
P.S. If you were looking for an explanation of WHAT ON EARTH the C365 story is about, I'm afraid this isn't the blog for that. Another time, kindly reader!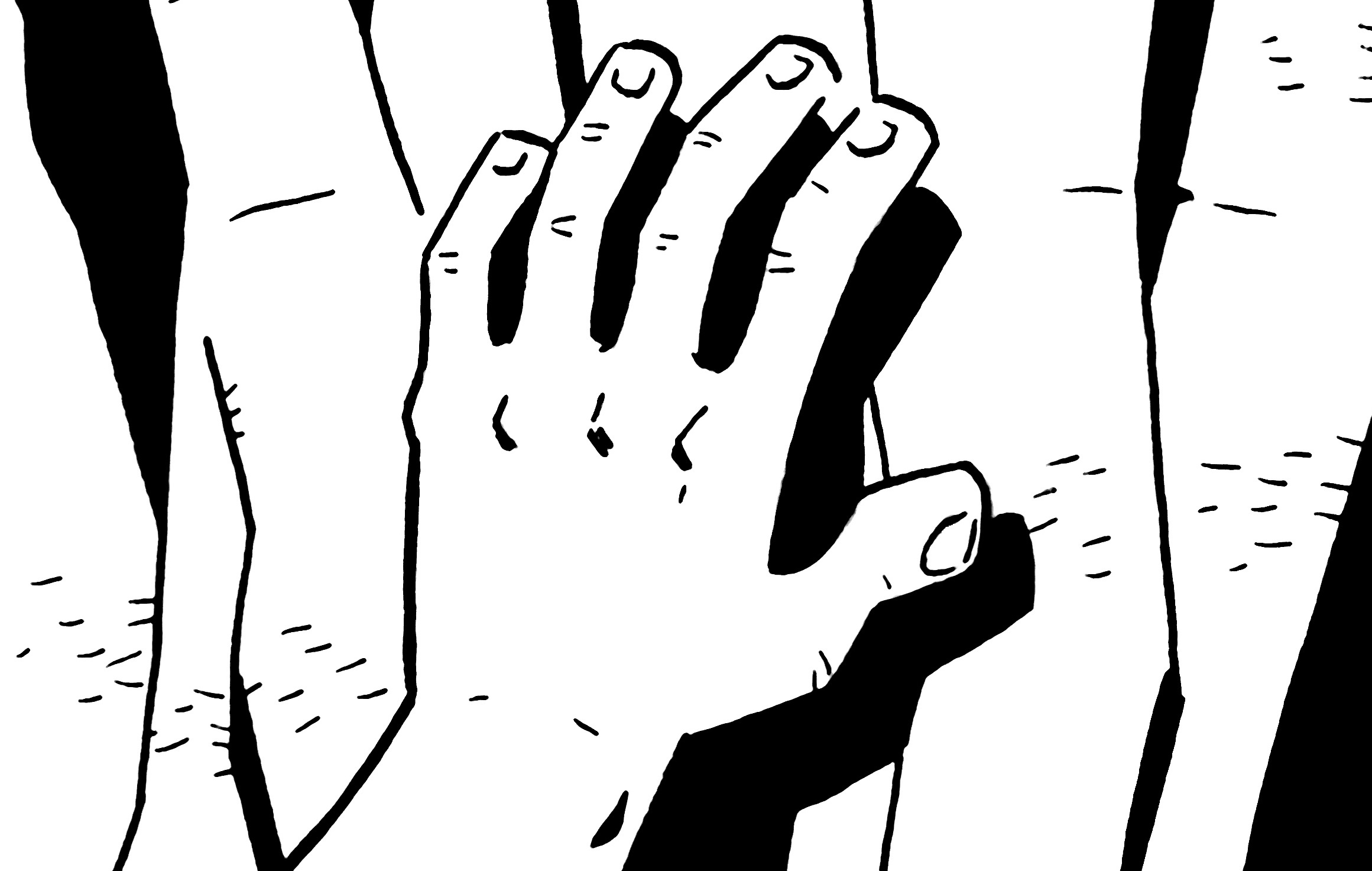 I can't believe how late this blog is! As my school teachers used to say as I handed in yet another post-deadline essay (on the burgeoning economics of La Rochelle's tourist industry after the unexpected popularity brought on by the Tricolore textbooks had waned, for example).
But this is not homework, this is far more important than homework! (Don't tell your parents I said that.) This is Comic 365, the internationally recognised (ahem) art (ahem) challenge drawn by a world-renowned and much-loved (ahem, could someone just get me a glass of water?) artist. Yes, I'm still talking about me.
If you've only recently tuned in to this experience of terrific a brief explanation is contained in these words.
Pages 9 through to 16 were an interesting bunch. Everything in me wanted to speed this comic strip malarkey up! Twenty four hours between each panel was dee-riving me crazy, Miss Daisy! I was so tempted to step on the figurative gas and punch this narrative into the figurative fifth gear. But I did not step on the aforementioned figurative gas because I quickly recognised that that decision would have turned this whole process into nothing more than simply a series of connecting illustrations, by removing the moment-by-moment imagery. And THAT, my friends, would have made this a charade.
As you no-doubt-well-know-well-no-doubt, a comic strip is more than just a collection of connected static images. A comic strip has movement! Something wondermentful happens between those panels as the eye/s move/s from one pic to the next. I can't explain it (as demonstrated in that last sentence) but this is more than pretty drawings tacked onto an adjacent tale, this is holistic storytelling (and without words either, non-dialogue fans!).
So what I did is this: I beat down that cloying creature called Instinct, and cuffed the ear of the vile goblin known as Impatience and I slowed it all down even further. Drama is not to be found in haste (as my old drama teacher would've said, if he'd existed).
Y'see, after all the excitement has faded away (once it's started), I want to ensure that we still have a piece of comic strip worth reading, even without the glamour of this Comic 365 Challenge. When this story eventually sees print (digital or inky) I'd like it to be a pleasurable experience for the reader, whether or not they've been part of this long drawn out exercise you and I are currently committed to – like an invisible contract you don't remember signing, with invisible ink, in a room with no windows, at night, blindfolded, a lingering whiff of body odour in the air… sorry, that was too much, wasn't it?
Righto, chat over, see you back here in a few weeks. Love n' biscuits for all! Flicko

The art of art, if you will, or more particularly the art of cartooning lies in the removal of all unnecessary and extraneous description till what you have left is the essence of what is needed to visually express the necessary information. Feel free to disagree, this might just be me!
Part of my journey through the landscape of personal creativity was the desire to free myself from the tyranny of movement lines!
I know, there's nothing inherently wrong with movement lines, they serve a valuable purpose; indicating direction, motion, action and speed for example. I appreciate some artists have even incorporated them as an integral part of their illustrative style; I'm thinking Kirby or nearly every Manga artist. But for me I found they were easily overused and became an excuse for not developing and imbuing my figures with their own natural energy and dynamism, rather I would rely on a flurry of lines to mask the obvious lack of movement in my characters!
I guess it's not dissimilar to clumsily putting the words "I feel sad" onto a face that you suspect isn't adequately expressing that emotion already. I'm sure I've read screen-writing books about this sort of thing – don't say it, show it.
I would think to myself, 'If I can draw figures with sufficient kineticism I can do away with movement lines forever!' Well, maybe my reliance on them, at least. I'd seen others do it: Jaime Hernandez, Adam Hughes, Grzegorz Rosiński, I'm sure you can think of others.
Okay, I admit (as I did previously in paragraph three) movement lines are useful, and having them in your toolbox is very handy. The key word here is 'reliance'.
They still make an appearance in my artwork from time to time, but nowadays I'm in charge! Oh yes, and their inclusion is purely from necessity rather than trying to cover up my own lack of ability! My lack of ability is now on display for all to see.
Ha ha, I joke, of course (sort of).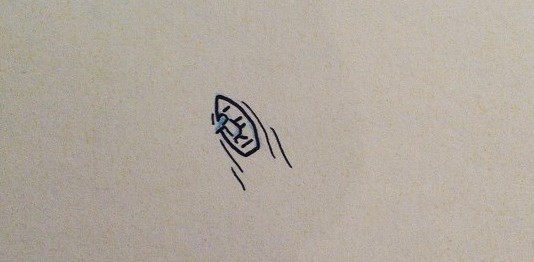 So that was January. 31 panels in 31 days? Check. Delivered, as promised.
If you have no idea what I'm talking about look at this or this.
I admit I'm quite surprised at how slow the pace has been; moving the story forward. I'm blaming the fact that this isn't the normal way to write and draw comic strips.
(Turn away now if you don't want to read any unwanted director's commentary or potential schpoilers.)
I assumed our heroine would have arrived at her destination by now. This is still the opening credits! Maybe this is an opportunity for me to flag up that I think this might take longer than 365 days! Comic 731 anyone?
Talking of blah, it's been interesting to look at the pacing now I've laid out the panels onto pages. Unfortunately by drawing one-a-day the tempo of the tale has been (maybe unhelpfully) heavily influenced by 'real time'. Twenty four hours wouldn't be the usual amount of time you'd spend in the gutter (technical term for that space between panels, not a literal gutter – though the comment still stands if that's what you thought I meant).
Also as you may have seen, I've been using a couple of art pens, which have taken some getting used to. I normal hang out with the brushes and ink gang, y'see.
And getting some visual consistency has been challenging. It didn't feel like I nailed the heroine's 'look' till about Day 21.
Apologies, it sound like I'm complaining! This is meant to be fun, Flicko! Soz.
It has been an interesting experiment so far, and I'm sure there will be more interesting developments to note along the way. I appreciate I'm making a massive presumption that you're interested in these meandering shoe-glazing reflections!
If you're still here at the end of February we will chat again, and on that occasion I will try to turn up with a smile on my face rather than the contemplative visage I'm currently sporting!
Don't forget you can see the brand new panels every day here. Just a push button push away!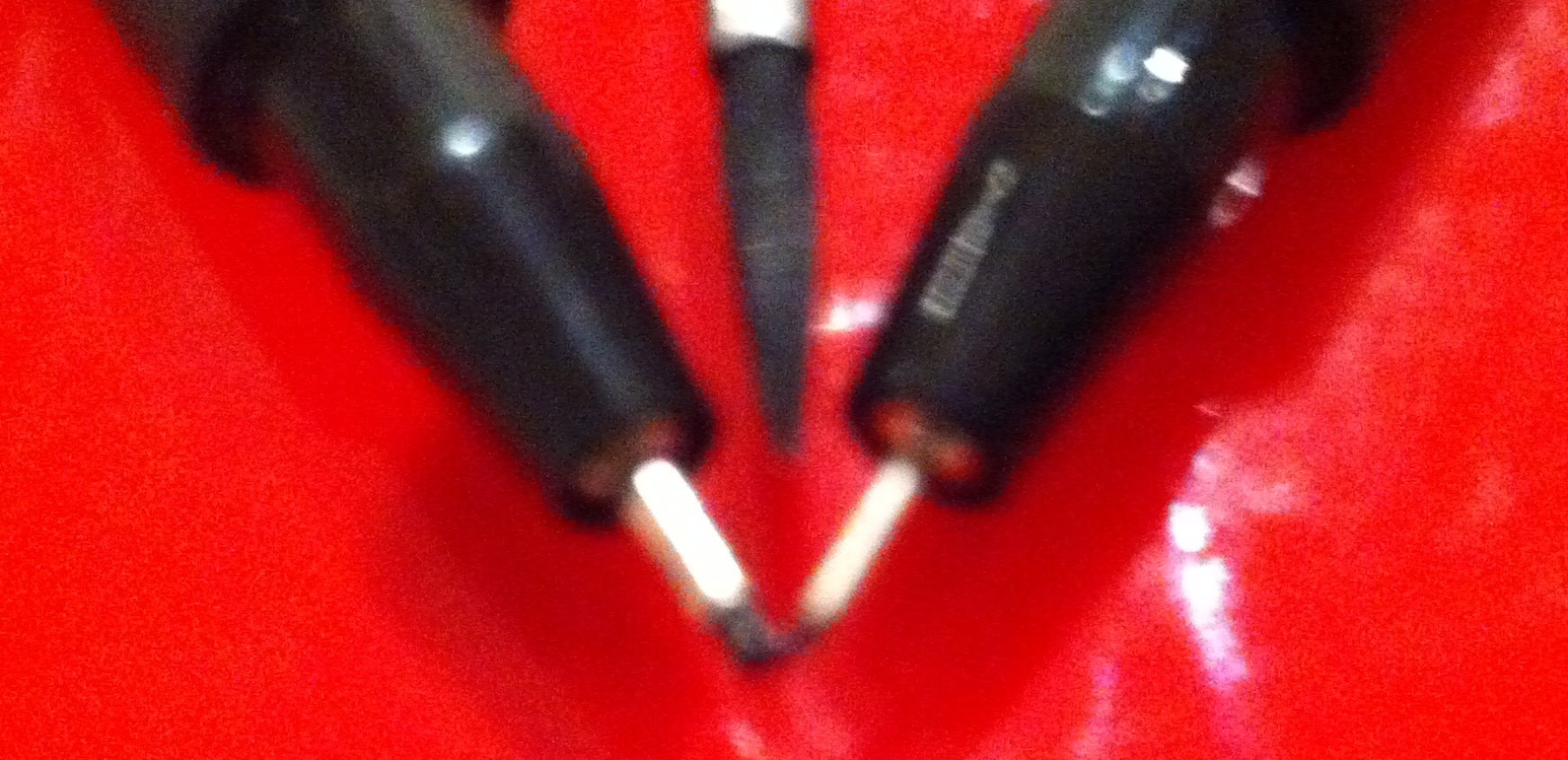 "You're always pushing me around… I can't give you what you want… This isn't working, maybe you should be with someone else…"
Sound familiar? We've all been there, haven't we? When you realise your choice of art material isn't giving you what you need. It used to be so good.
Or maybe this is a new relationship and you've just got to stick with it. Change and adjustment is required to make this work. Yes, I'm still talking about art materials.
You can't expect acrylic paint to act like Indian ink, or a 2B to act like a 2H, or a scalpel to act like a rubber (ERASER, I mean!).
Over the years my choice of instrument has been the brush, to ink my pencil lines. But recently I've been using an art pen and, I'll be honest with you, it's not the same.
The brush and I had such amazing times together. With just a minor amount of pressure the brush performed a varied and beautifully thick line – whereas the pen insists on providing the same width no matter how much I press and cajole. It's so uncompromising!
With just a minor caress the brush gave the gentlest and finest of wondrous lines – whereas the pen insists on fading away when there's even the smallest let up of pressure applied! It's obstinately consistent, I'll give it that.
"That's the line you're getting, sunshine – no more, no less!"
But why should I be surprised? It's unfair to expect a new relationship to be the same as the last one. You're right, I need to value the qualities the pen does have, rather than projecting my seething perturbation on it for my own lack of artistic prowess.
If I remember correctly it wasn't easy with the brush at first. We had to get to know each other: what it was I was after, and the parameters within which the brush could meet those needs. YES, JUST LIKE A REAL RELATIONSHIP (it's all about me).
Hey, I'm a big believer in commitment, even when the other party constantly needs me to pick them up and lend a hand to do even the simplest of tasks!
"I'm fine, can we start again?… And no more eyeing up my thinner friends… or the thick ones either…"
We'll make this work. Now where's my old mate, Tipex?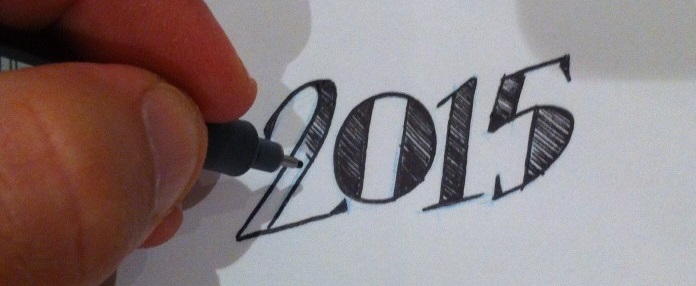 A couple of weeks ago I had this incredible idea ("Sounds like you, Flicko"). I admit, it's not particularly original ("Sounds like you, Flicko"), but as the Famous Five would say, I think it's jolly exciting.
I know there are many off-the-shelf and established drawing challenges and exercises out there. Some involving a daily sketch on a particular subject (e.g. the Joker laughing), others a drawing-a-day for a month utilising a specific technique (e.g. the Joker laughing, in watercolour), others more collaborative in a relay race type way (e.g. I draw the Joker then you draw the next image in that sequence, possibly the Joker laughing?). And from what I understand, the intention of these various artistic undertakings is to bring some discipline and inspiration to the creative process, and maybe dare I say… fun.
Anyway, back to me. As we were slowly creeping towards the end of the year, I thought it would be fun (there's that word again) to set up my own (possibly unoriginal) comic drawing project stroke challenge stroke exercise. If you're still reading I'm going to assume you're interested, so here it is:
– Draw one panel a day for 365 days (or in common parlance, 'a year').
– Each panel is the same size.
– Do not plan ahead, story-wise, but see where the images lead.
– No roughs or advance sketches.
– No dialogue.
Now, this is where the problems start, because once I started mulling (yuletide pun, relevant at time of writing) over the idea I invariably started to plan ahead. I began constructing a story arc! I couldn't help it, dear reader! I had an initial image in my brain head, and from that I started to craft and fashion what I can only describe as, a spiffing tale. At least, that's what me and Enid Blyton would call it.
But rather than beat myself up (which is actually quite difficult to do – no need to offer assistance, thanks!) I just revised my self-imposed rules. They were only self-imposed, after all:
– Draw one panel a day for 365 days (or in common parlance, '2015').
– Each panel is the same size, but double panels are allowed (still counting as one day, mind).
– You can plan ahead for the sake of clarity.
– Minimal roughs only.
– No dialogue.
Y'see, I didn't want to spend a year drawing something that I feared would end up being a rambling mess ("Sounds like you, Flicko"). I'm not as avant garde as my care-free off-the-wall regular musings may suggest. Stop sniggering! I wanted to make sure that anyone following this strip wouldn't feel it was a wasted journey by the time they got to the thirty first of December. And when I say 'anyone' I probably mean 'me'.
So, if the curiosity light on your control panel is currently flashing you'll be pleased to know I've set up an Instagram account to record the daily panels. At the end of each month I'll collate these images together nicely and present them here.
Post script: If it all goes face-shaped and I fall flat on my pear, I will immediately delete this blog post and deny all knowledge that I ever committed to such a task! ("Sounds like you, Flicko")