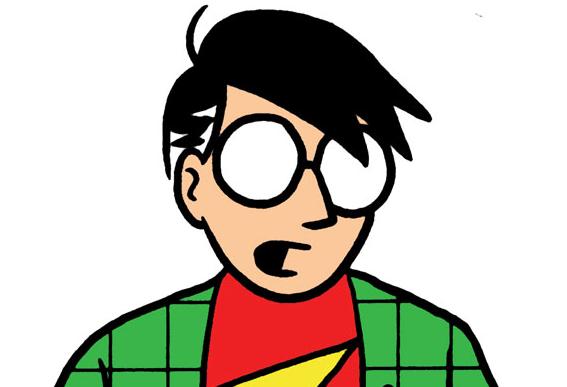 Following on from my last nail-biting blog: On each table I'd placed some of my own comics and a selection of 'How to' books; Eisner's Comics & Sequential Art, How to Draw Comics the Marvel Way, How Not to Draw Comics the Marvel Way… the usual stuff.
So after a day of badly scrawled cartoons and barely humorous scripts (and that was just me!) the tiny artists left. As I beckoned them farewell, one child pleasingly enquired, "Is it okay to take these?" Indicating the comics on his table. "Of course, I drew those," I chirped, as modestly as a man desperate for affirmation can manage.
But then, whilst tidying up I received a shock of shocks. A book was missing! My treasured copy of Understanding Comics: The Invisible Art by the living caricature Scott McCloud.
Where was it?! I hear you cry (feigning interest). After an extensive (one minute) search it dawned on me that the young scallywag, previously mentioned, must have taken it! I'd thought he was pointing at my comics, but it was my precious book he'd actually had within his adolescent gaze.
I was so distraught I convened to the nearest tavern to drown my sorrows. Every bespectacled tweed-wearing gentleman entering the establishment, just added to my pain. The landlord told me later that he'd never sold so many Barcardi Breezers in one evening!
I still haven't replaced the book. Partly as I resent paying twice for the same item, but mainly because purchasing a new copy feels like it would somehow invalidate the genuine sadness I felt at the time. Pretty dumb, eh? (No need to nod, it's a rhetorical question.)
I can only hope that boy has grown up to become an exceptional comic creator, having studied Scott McCloud's insightful words & pictures (and inspired by an enthusiastic workshop tutor). I can't remember his name exactly, I think it was Chris something… Wear, or Were? I guess I'll never know.