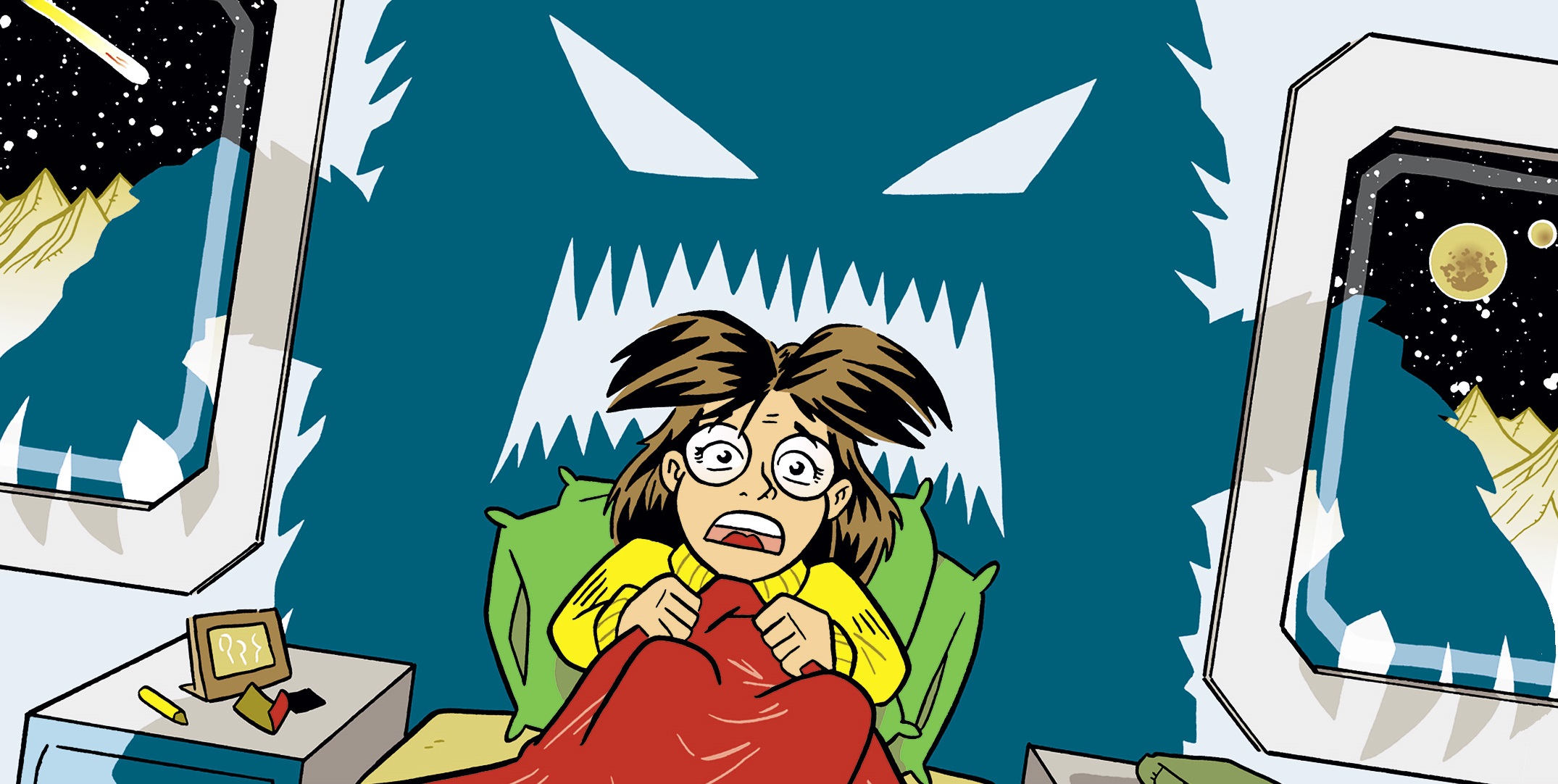 It's finally here! Mockingbird: Nightmare on Another Planet the graphic novel is on the electronic book shelves! A space adventure for all ages – 128 pages of aliens, monsters, robots, suspense, mystery, character-driven plot, even a feral egg-dog with big teeth (whatever that is)! Available now on Comixology, Sequential or as a Kindle or iBook for less than six quid! (Sample pages are viewable here and here, if you're hitching a lift on the cart of curiosity.) What are you waiting for? Buy buy buy! Er… no pressure of course.
(Soz, that's a lot of exclamation marks for one fairly short paragraph.)
It was 1996 when I first put pencil to paper (ha, remember when we used to use paper, old timers?) and drew those big round specs. It's certainly been a long journey in literal time and space; a muddled summary of which you can read here. A quest that started with the self-publishing of three separate comics and ending with the collecting together of those very same publications, with 36 extra pages, to self-publish again, but in a far more contemporary format – one with no physical pages! It feels like I'm living in a world of real-life science fiction! How apt.
So this is where we are: announcement announced. What else is there to say but 'enjoy'! If you're still hesitant, gentle reader, I've included some kindly quotes from a selection of comic reviewers below, received when Mockingbird was first released:
'A charming, funny SF comic which allows the story to unfold through character rather than laboured exposition. This is a nice antidote to the grimness of most essays in this genre… It's nice to read a character-driven comic in which the characters actually are interesting… Fans of good old-fashioned, tongue in cheek science fiction should give it a try.'
Mike Kidson (Comics International)
'A nice return to good fun comics with a very British sensibility.'
Pete Ashton (The Review Sheet)
'Science fiction comics are a dime a dozen, delightful ones are rarer. And this one, with a truly charming heroine and original art, is so full of promise one can only pray it will last'
Fabio P Barbieri (Comics International)
'A cute romp of a comic.'
Terry Wiley (Sleaze Castle)
Of course, I will keep you informed of any further developments, Mock-fans! But let me know what you think, all feedback welcome! (What am I letting myself in for? Smiley face.)
Love & biscuits,
Flicko